Discover solutions for SUPERIOR MANAGEMENT
The Welcoop Cooperative and its subsidiaries propose a wide range of solutions and tools to support pharmacists in their operational and strategic pharmacy management.
Thanks to its management solutions, pharmacists can respond to immediate challenges regarding the profitability of their business (management, purchasing, order tracking) and adapt their current operations to the future changes in the profession (advice, security, training).
Move from management to PERFORMANCE MANAGEMENT
Pharmacy management looks at day-to-day operations, and needs to work at 100%. Performance management of a pharmacy smooths out these routine ups and downs. In addition, it aims to optimize all the "small stuff" which disrupts task organization and business profitability every day. Performance management allows the focus to be on the important issue of adding value, be it economic, financial or for the customer, but always with the aim of developing customer loyalty.
A subsidiary of The Welcoop Cooperative, Pharmagest offers LGPI (Logiciel de Portail d'Information, or Information Gateway Program in English). This software is an integrated operational, economic and financial solution. Pharmacists can control day-to-day operations while becoming, at the same time, in charge of a business striving to refine its development choices. With LGPI, pharmacists can deliver medication securely and work more efficiently at the counter. Purchases and stock can be tracked easily. This tool allows useful information to be shared and better pharmacy staff motivation. Information can also be shared with partners outside the pharmacy, as well as with other groups and healthcare professionals.
Grouped purchasing centers
Too much admin? Order forms, delivery notes and invoices going in every direction? All these tasks with low added-value are a recipe for frustration. Even more so when they pile up within a group. Team commitment is worn down by it all, and some pharmacists feel they are neglecting their core profession. Pharmagest offers solutions to work with fellow pharmacists better. With Officentral, pharmacists can access a web platform to manage all product flow, aiming to mutualize needs while optimizing the supply network.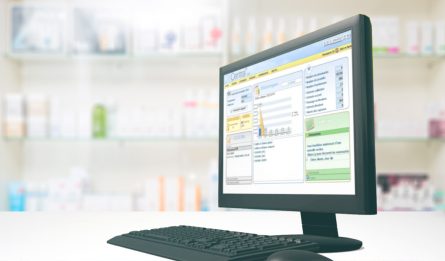 The advantages of Officentral for each group stakeholder:
Transforming needs analysis into tailored orders,
Grouped network purchases to take advantage of low prices,
Adapting commercial policies and operations in real time,
Stock control, integration of logistic and administrative constraints,
Digitization of documents, regulatory procedures respected,
Take advantage of collaborative tools allowing coordination of network stakeholders.
Moreover, by being part of our Objectif Pharma group, pharmacists can access an efficient centralized buying service which lets them boost their profitability even more and is a major time saver for order management.
Solutions for order tracking
There is a 100% free application dedicated exclusively to customers of Welcoop Logistique and its partner laboratories, allowing:
Real-time tracking of all orders and invoices,
Document digitization and production of duplicates, saving time,
Tracking of sales relationships and tailoring of products,
Keeping up-to-date with laboratories and suppliers.
External advice is often useful
Our members have been asking for ultra-personalized advice and in-depth market analysis for their pharmacies for some time. We have developed a range of tailored consultancy services to maximize our cooperators' results.
Pharmacists are both committed professionals and managers keen to add value to their pharmacies. The system in which they must evolve is changing all the time. They must anticipate new projects and meet the future head-on. For all these reasons, external advice is often welcome. Because some decisions involve a long-term commitment and should be locked in. For example:
Are commercial pricing and profit margin policies suitable?
Are choices about recruitment and staff training well orientated?
What strategy and key skills are necessary to develop the business?
Pharmagest has put in place consultancy services and expertise in many areas: management, advice, sales, and purchasing. After discussion with pharmacy management, and a detailed snapshot of the business, an action plan is developed. Pharmacists are guided step-by-step to reach their strategic economic and financial objectives. The rollout of the action plans can be followed by using customized indicators in the software reporting tools.
SECURING all activity
Protection of patient and professional pharmacy data is a major challenge for pharmacists. Pharmagest has numerous solutions to ensure data security for pharmacies..
Pharmagest has been an accredited "healthcare data host" since 2012, with significant expertise in Information Systems for all needs and systems.
Training to become a real leader
Managing a pharmacy well requires special skills. Skills beyond those of the pharmacist's role as healthcare professional. This is what makes the task challenging and rewarding at the same time, with its ups and downs.
Because pharmacists are both healthcare professionals and team leaders, to be successful in this activity, both of these roles must mesh together. Pharmacists are technical experts in their field and at the same time, should inspire their teams to use their talents to the full.
In particular, because The Welcoop Cooperative and its Objectif Pharma group have listened to pharmacists and heard what they have to say, we offer training tailored to each situation in order to support pharmacists in their roles as managers and leaders.
Become a CITIZEN
All members of The Welcoop Cooperative, be them cooperative members or employees, are professionals that remain committed to improving the health and well-being of patients.